COSRX Blemish Care Sheet Mask 1 Sheet - BEST BEFORE 6/9/2023
Regular price
Sale price
$4.99 CAD
Unit price
per
Sale
Sold out
COSRX AC Collection Blemish Care Sheet Mask 1 Sheet
BEST BEFORE 6/9/2023
Say goodbye to traces of skin trouble!
What it is: Fine-quality sheet mask with tea tree extracts and ectoin that helps to treat unwanted skin trouble and erase the traces of acne

WHY IT'S SPECIAL:
Erase the traces caused by unwanted skin trouble
Niacinamide and arbutine, ingredients effective in treating hyperpigmentation, help erase and prevent traces left from acne. 
Calm the blemishes and rejuvenate your skin
Tea tree extracts soothe sensitive skin and ectoin helps to hydrate. Calm your blemishes and replenish moisture in one sheet! 
Special 3-Layer sheet for effective hydration
Three-layer fabric sheet effectively keeps essence within the sheet, and provides effective hydration by delivering active ingredient directly onto skin.
How to use:
Apply this mask evenly on your face.
After 15 to 20 minutes, remove the mask and gently pat to absorb the remaining essence.
[For external use only. Do not get into eyes.]
Water, Butylene Glycol, Glycerin, Propanediol, Niacinamide, Melaleuca Alternifolia (Tea Tree) Leaf Extract, 1,2-Hexanediol, Hexylene Glycol, Hydroxyacetophenone, Hydroxyethylcellulose, Arginine, Allantoin, Acrylates/C10-30 Alkyl Acrylate Crosspolymer, Dipotassium Glycyrrhizate, Xanthan Gum, Disodium EDTA, Polyglyceryl-10 Myristate, Polyglyceryl-10 Laurate, Melaleuca Alternifolia (Tea Tree) Leaf Oil, Caprylic/Capric Triglyceride, Ectoin, Arbutin, Asiaticoside, Dextrin, Asiatic Acid, Madecassic Acid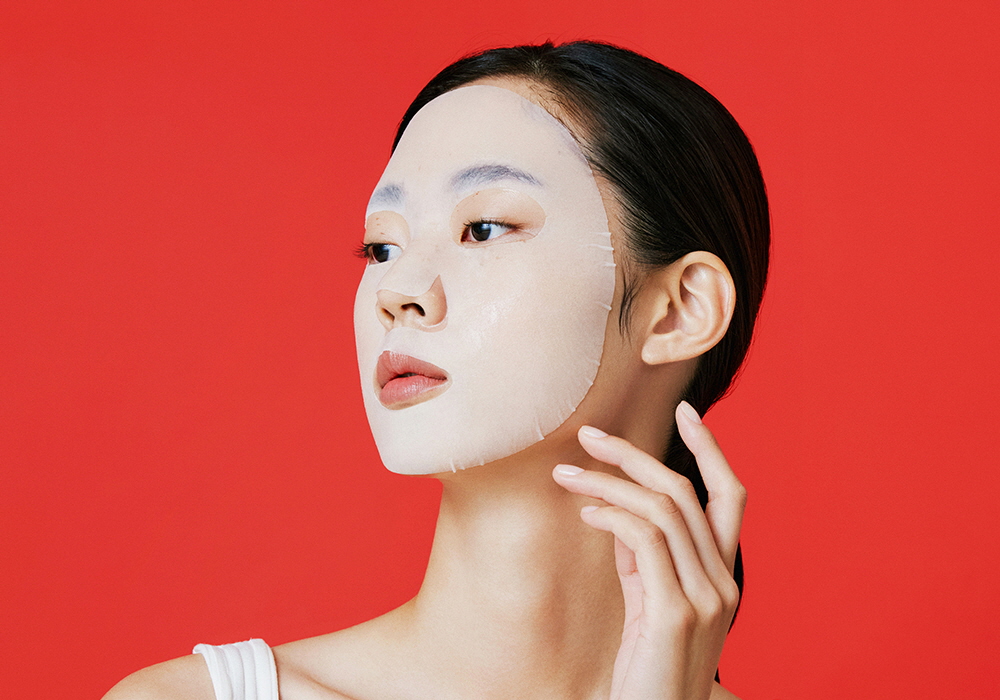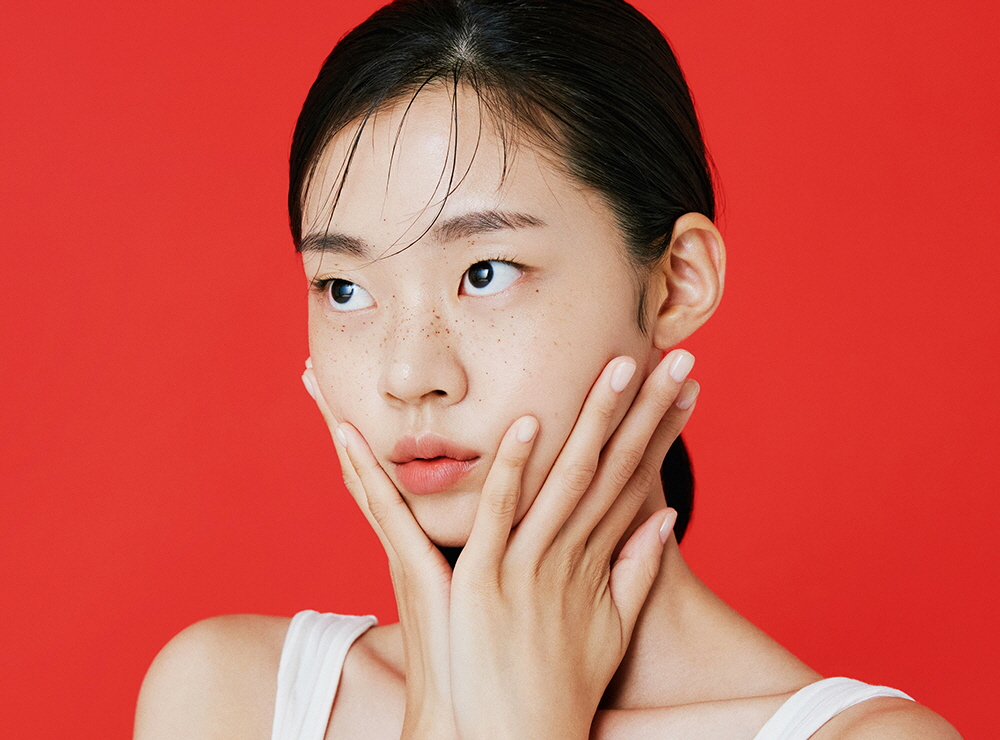 신경 쓰이는 피부 고민
자극받은 민감 피부를 진정 시키는 고민 케어 마스크

피부 진정


피부 수분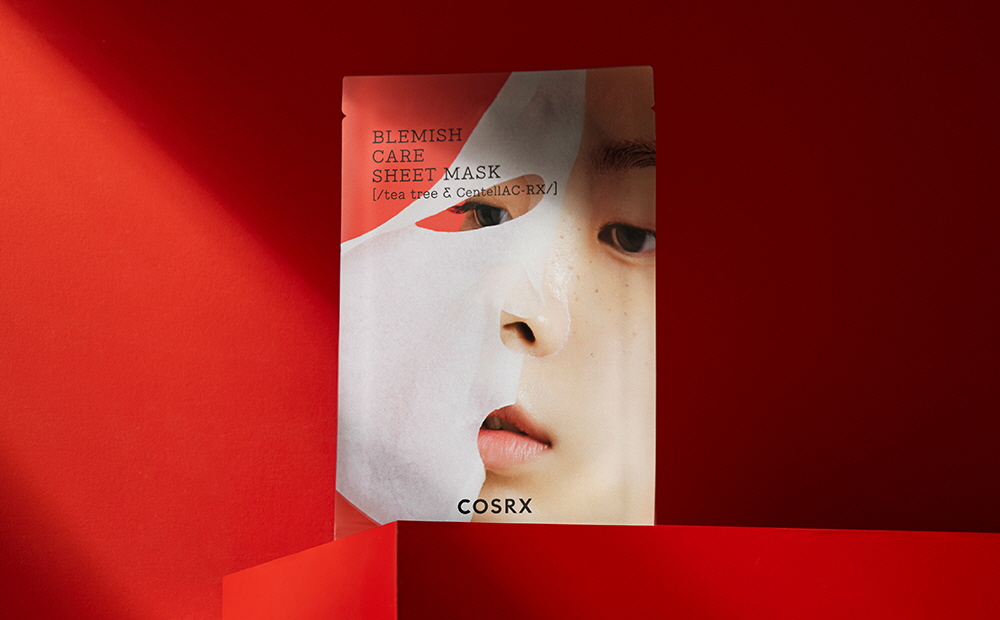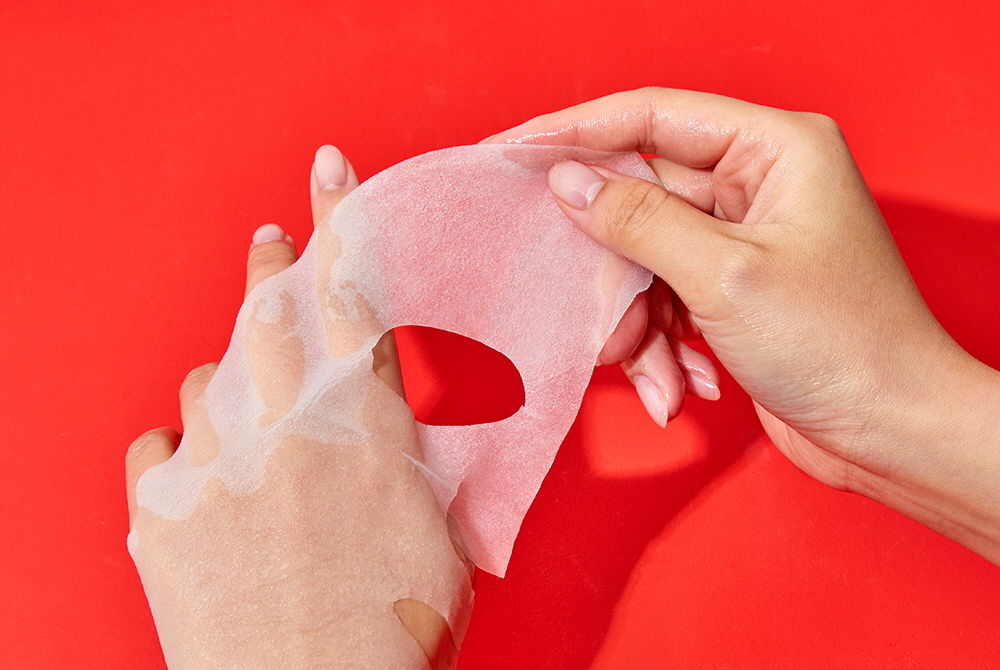 CELLULOSE 3 LAYER SHEET

내추럴 유래 3중 레이어 구조 특수 원단으로 매끈한 섬유 시트가 부드러운 촉감을 선사하여 피부에 편안하게 밀착됩니다.
* 원단에 한함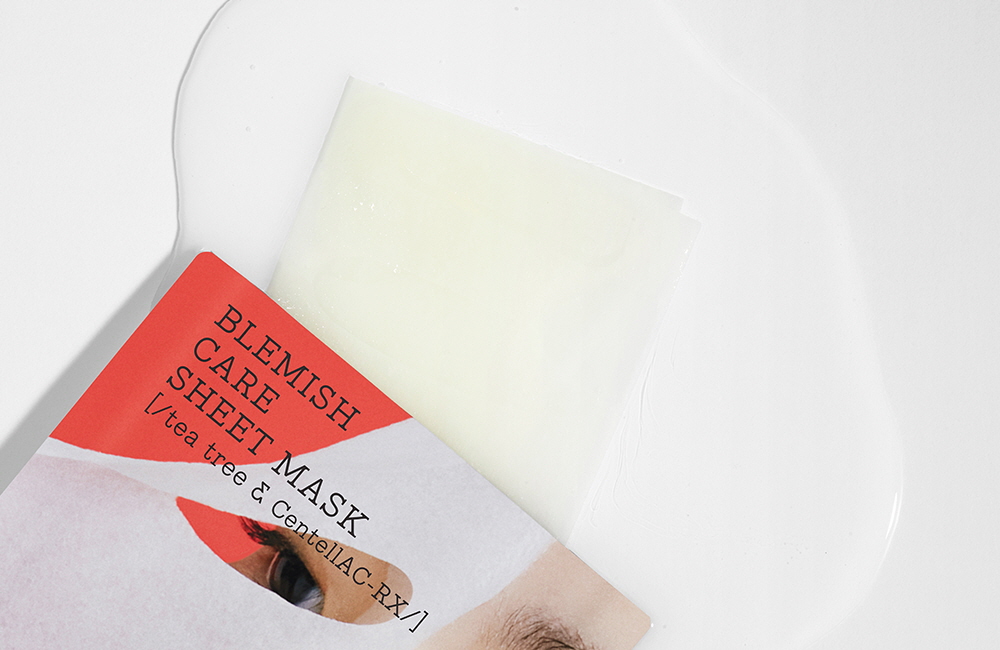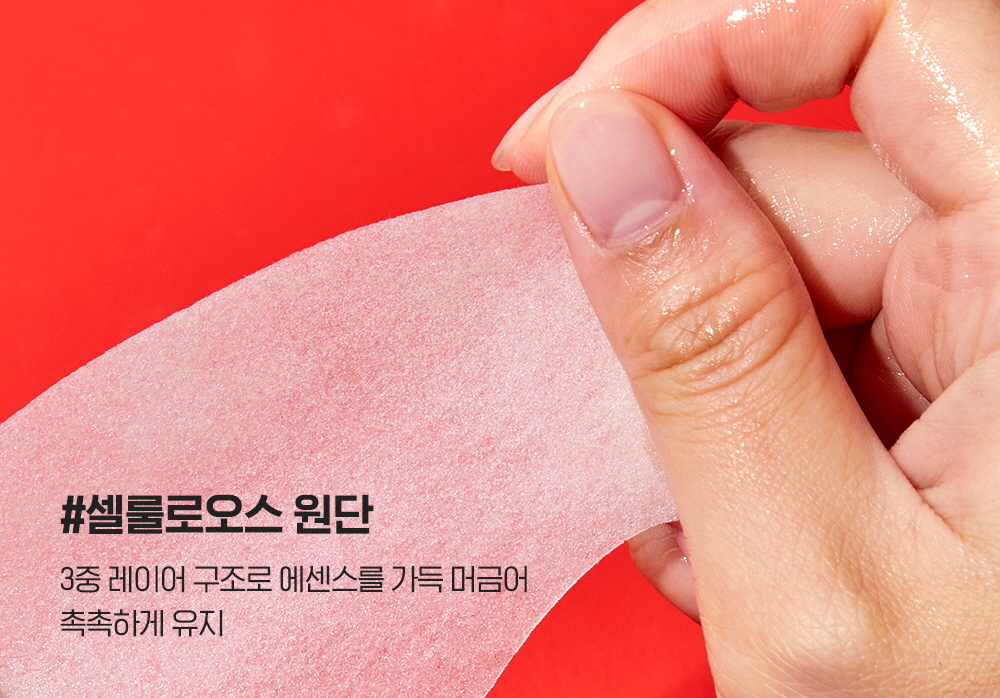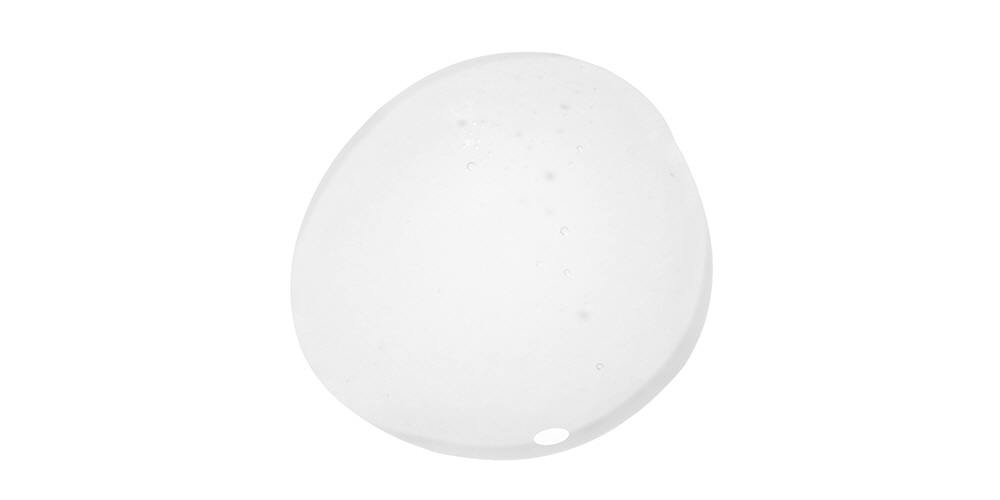 TEATREE WATERY ESSENCE #진정 #미백 #수분

티트리잎 추출물 9,000ppm으로 이루어진 가벼운 워터 타입의 에센스가 함유되어 민감하고 성난 피부 진정에 도움을 줍니다.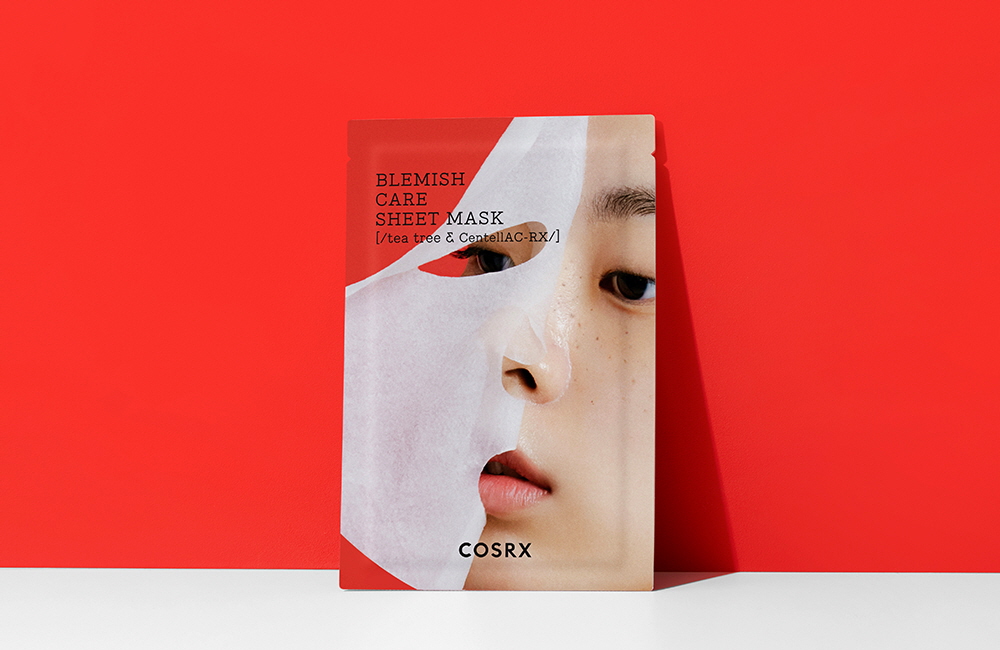 성분 및 효능 [/main ingredients/]
AC 진정케어
티트리잎추출물이 성난 피부의 진정에 도움

AC 미백케어
나이아신아마이드로 피부를 맑고 투명하게

장벽케어
엑토인이 수분 보호막을 형성하여 피부에 수분 부여


티트리잎추출물 피부 진정
엑토인 수분 부여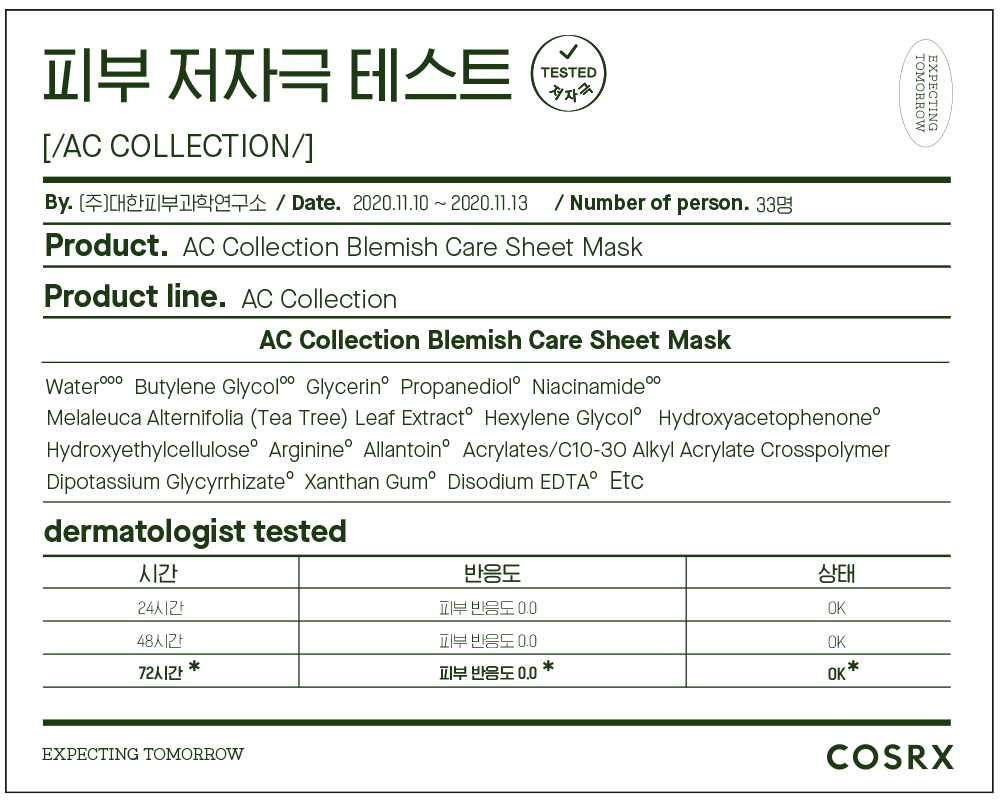 제품 사용법 [/how to use/]
1. 세안 후 시트를 꺼내어 필름을 제거한 뒤, 얼굴에 알맞게 부착하여 줍니다.

2. 10-20분 뒤 시트를 떼어내고 피부에 남은 에센스는 가볍게 두드려 흡수시켜 줍니다.

최고 짝꿍템 [/RX coordination/]
전성분 [/ingredients/]

정제수, 부틸렌글라이콜, 글리세린, 프로판다이올, 나이아신아마이드, 티트리잎추출물, 1,2-헥산다이올, 헥실렌글라이콜, 하이드록시아세토페논, 하이드록시에틸셀룰로오스, 알지닌, 알란토인, 아크릴레이트/C10-30알킬아크릴레이트크로스폴리머, 다이포타슘글리시리제이트, 잔탄검, 다이소듐이디티에이, 폴리글리세릴-10미리스테이트, 폴리글리세릴-10라우레이트, 티트리잎오일, 카프릴릭/카프릭트라이글리세라이드, 엑토인, 알부틴, 아시아티코사이드, 덱스트린, 아시아틱애씨드, 마데카식애씨드

Water, Butylene Glycol, Glycerin, Propanediol, Niacinamide, Melaleuca Alternifolia (Tea Tree) Leaf Extract, 1,2-Hexanediol, Hexylene Glycol, Hydroxyacetophenone, Hydroxyethylcellulose, Arginine, Allantoin, Acrylates/C10-30 Alkyl Acrylate Crosspolymer, Dipotassium Glycyrrhizate, Xanthan Gum, Disodium EDTA, Polyglyceryl-10 Myristate, Polyglyceryl-10 Laurate, Melaleuca Alternifolia (Tea Tree) Leaf Oil, Caprylic/Capric Triglyceride, Ectoin, Arbutin, Asiaticoside, Dextrin, Asiatic Acid, Madecassic Acid
Share